6x Dado Tappo Coprivalvola Alfa Romeo Spider 105 101 Giulia Giulietta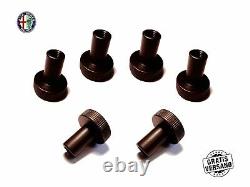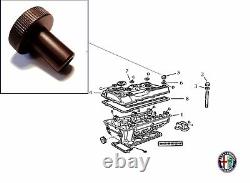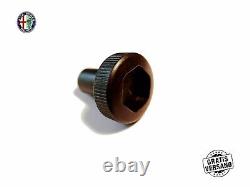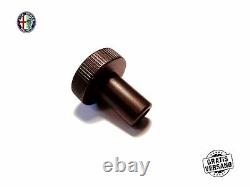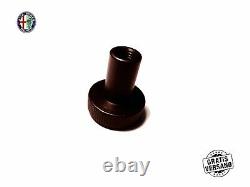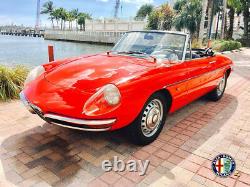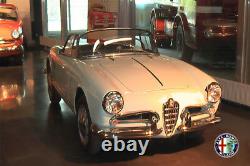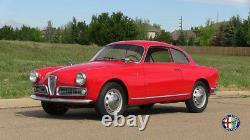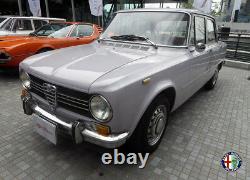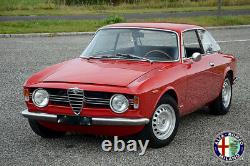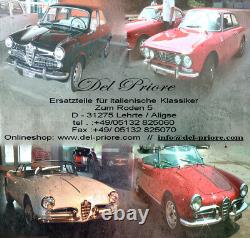 6x Dado Tappo Coprivalvola Alfa Romeo 105 Ragno 101 Giulia Giulietta Anno di. La descrizione di questo articolo è stata tradotta automaticamente. Se hai dubbi o domande, ti invitiamo a contattarci. TIPO DI ALFA ROMEO 750 / 101 GIULIA GIULIETTA TIPO 105 ANNO DI RAGNO 1960-70 (TONDO CODA / CODA FILANTE / DUETTO) / GIULIA SPRINT GT / BERLINA / COMBI PACK / IMPOSTARE INBUS 6 X 14 MM DADO / VITE SUL COPERCHIO VALVOLE / CILINDRO TESTA COVER NERO NUOVO. TIPO DI ALFA ROMEO 750 / 101 DI SHANKAR GIULIA TIPO 105 SPIDER GIULIA GT BERTONE 6PCS SET INBUS 14 MM BULLONE ESAGONALE PER LA COPERTINA DI CAM NUOVA!
Descrizione / Descrizione / Descrizione. Impostare 6 x valvola nera copertina dadi esagonale 14 mm con una lunghezza del piede di 20 mm e una testa a strisce e un thread, come la madre originale di quel tempo. Ci sono 6 pezzi per copertura. Per i motori 1300 e 1600. Perfetto per far brillare il tuo vano motore. Set di 6 nero bullone adatto per tenere premuto il coperchio cam su tutti i twin cam 101 105 serie vetture come Giulietta. Nell'originale stile con la lama seghettata, grande tutte le principali presa 14 MM e 20 MM piede alto. Per il tipo di 1300 101 e 105 e motore 1600. Tutte le qualità di produttore originale! Unità per ogni set / per impostare / unità UNITA al set. 1 parti / unità / unita. 6 x Dado coperchio valvola nera con bordo a coste.
14 MM di testa esagonale e una lunghezza di piede di 20 MM. Numero articolo / numero articolo / Codice articolo. Alfa Romeo Tipo 750/101 Giulietta Giulia spider / Sprint / Berlina con motori 1300 e 1600. Tipo Alfa Romeo 105 ragno rotondo posteriore / coda filante / Duetto con motori 1300 e 1600.
Alfa Romeo tipo 105 Giulia Berlina / Kombi / Sprint GT / GTV Bertone (scalino) / con motori 1300 e 1600. Alfa Spider 1300 / 1600 anno 66-69 carburatore - tondo coda.
Giulietta Sprint (anche Speciale & Zagato) / Berlina / spider 1300 / 1600 BJ. Bertone GT 1300 / 1600 BJ. Giulia Berlina / Kombi / spider 1300 / 1600 BJ.
Ricerca di altri FIAT / ALFA ROMEO Oldtimer parti di ricambio o hanno ancora domande circa le offerte di articoli? Ragno di ALFA ROMEO GT / Bertone Giulia / Berlina Giulietta Zagato. Per esempio, i parafanghi sono offerti solo zincato, così si ancora lungo alcune delle sono la tua fidanzata. Si può essere sicuri che si uniscono la ottenere la migliore qualità a prezzi interessanti. Spedizione in Germania è evidente per voi gratuitamente (DPD).
Gli offerenti stranieri sono i benvenuti, si prega di chiedere prima di fare offerte per il Consiglio di spedizione. Pezzi di ricambio per classici italiani Per il 5 di estirpazione D-31275 insegnato / Aligse Tel.
+ 49/05132 825060 Fax: + 49 / 825070 05132. HARDY DISCO FIAT 124 125 SPIDER COUPE 131 132 ARGENTA PROP SHAFT JOINT 1969-85. GIUNTO CARDANICO GIMBAL ALFA ROMEO 105/115 SPIDER GIULIA GT BERTONE 63-94 NUOVO. FIAT DINO SPIDER SET DI SUPPORTO PER STAFFA PER SOSPENSIONE IN METALLO 1966-72. FIAT DINO SPIDER SET DI GUSCI PER SCARPE RESISTENTI IN PLASTICA CON COPERTURA MORBIDA 66-72. FIAT 124 SPIDER COPRIMANUBRIO BEIGE MORBIDO + GANCI IN METALLO E PLASTICA 1966-82. FIAT 124 SPIDER PERSENNING NERO SOFT COVER SUPERIORE NERO COPRI CAPOTE NERO 66-82. FIAT 124 SPIDER COPRIMOTO NERO MORBIDO + GANCI IN METALLO E PLASTICA 66-82.
FIAT 124 SPIDER PERSENNING SET DI GUSCI IN PLASTICA COPERCHIO MORBIDO 1966-85. FIAT 124 SPIDER SET DI SUPPORTI PER CINTURINI PER CINTURE MORBIDE GANCIO PER TETTUCCIO MORBIDO AS BS CS 66-82.
PARAOLIO SIMMERRING DIFFERENZIALE 28X78X10 28MM 78MM 10MM NUOVO. FIAT 124 SPIDER PARAFANGO ANGOLARE PANNELLO FRONTALE PANNELLO FRONTALE ANTERIORE SINISTRO CS DS 1975-85. ALFA ROMEO / FIAT / EIGENMARKE. OLDTIMER YOUNG LIEBHABERSTÜCK PREISWERT GÜNSTIG. INKLUSIVE GUMMIUNTERLAGE CHROME PLATED INCLUSIVE.
RUBBER SHEET WITH EMBLEM ITALIEN ITALY ITALIA. GLANZ MATT MARKENWARE ROUNDTAIL ROUND TAIL MONTAGE. MONTAGETEILE TEILE BEFESTIGUNGSSATZ CON KIT DI. MONTAGGIO COMPLETE SCHMAL SCHMALER FUSS FUß 95 MM.
ABSTAND FRONT DISTANCE OF SCREW HOLES FITTING. BEIDE SEITEN PASSEND FASTBAK EISTÜTENDESIGN.
MIROIR CHROME SPECCHIO CROMATO ESPEJO Y CROMADA. ESPELHO CHROME CHROME LUSTRO SPEGEL KROM AYNA KROM. REPARATURSET AS LIEBHABER YOUNGTIMER OLD. VALVE COVER NUTS SET OF 6 INBUS IMBUS. CAM ALLEN WRENCH HEX KEY 14 TWIN-CAM. SPECIALE SS SPORT SPORTCOUPE GIARDINETTA. PROMISCUA 750 C B E D F 753 HÄNGENDE PEDALE JUNIOR. TZ 1 SUPER LIMOUSINE KOMBI KNOCHENHAUBE. VERCHROMT GTV GTA GTC BENZIN BENZINER. WITH HEAD BOLZEN SCHRAUBE HAUBE VENTIL DECKEL. GIULIA 1300 1600 1750 2000 BERLINA GT JUNIOR. VELOCE DUETTO SPIDER ZAGATO MONTREAL. RUND ROUND AUSSENSPIEGEL AUßENSPIEGEL SPIEGEL DOOR. MIRROR 1900 GIULIETTA ALFA ROMEO FIAT LANCIA. SERIE 101 TYP 105 115 105/115 BERTONE RUNDHECK NEW. KANTENHAUBE HAUBE KANTE GLATTHAUBE GLATT OSSO DI. SEPPIA RUND HECK FACELIFT FASTBACK. ROADSTER CABRIO KABRIO CODA TRONCA AERODINAMICA. WING REAR MIRROR LEFT RIGHT LH RH TI CHROMED.
HERSTELLER QUALITÄT BESTE BEST PRICE PREIS. GENUINE ORIGINALE REMANUFACTURED SUPPLIER QUALITY. ORIGINAL 750 EXPRESS OE OEM ZEICHEN LOGO BADGE. NEUWARE EXCLUSIV EXKLUSIV VERSANDKOSTEN SCHEIBE. SINISTRA DESTRO SINISTRO SX DX CAR AUTOSPIEGEL.
AUTO DRIVER SIDE PASSANGER BEFESTIGUNGSTEILE. BEFESTIGUNG TÜLLE SCHRAUBE FAST VERKLEIDUNG. REPARATUR REPARATURSATZ SATZ SET DICHTUNG KIT REP. 2 JAHRE / 2 YEARS. BLACK SCHWARZ NOIR NERO ANTRAZITH ANTHRAZIT.
The item "6x Dado Tappo Coprivalvola Alfa Romeo Spider 105 101 Giulia Giulietta" is in sale since Saturday, January 5, 2019. This item is in the category "Auto e moto\ ricambi e accessori\Auto\ ricambi\Carrozzeria esterna\Portiere laterali". The seller is "alfaspecialista" and is located in Lehrte. This item can be shipped worldwide.
Modello/Serie: Alfa Romeo
Pacchetto: No
Altro codice identificativo: BLACK NERO NERO NERO BANDA ANTRACITE
Marca: ALFA ROMEO / FIAT / STORE BRAND
Paese di fabbricazione: Italia
Unità di misura: Unità
Materiale: Acciaio
Gruppo di prodotti: Ricambi Motore
Tipologia prodotto: Tappo Coprivalvola Vite
Fabbricante/Provider: ALFA ROMEO / FIAT / STORE BRAND
Codice di riferimento produttore articolo originale: AUTO D'EPOCA MODELLI RECENTI OGGETTO DA COLLEZIONE CONVENIENTE
Lavorazione superficie: Nero
Numero unità: 6 VITI
MPN: 260-5D / 2605D
Garanzia produttore: 2 ANNI / 2 ANNI
Codice ricambio originale OE/OEM: ORIGINAL 750 EXPRESS EO FEO SEGNI LOGO DISTINTIVO
Posizionamento: Anteriore