Tipo Hellebore Volante Alfa Romeo 105 / 115 Spider Gt in Legno 390mm + Mozzo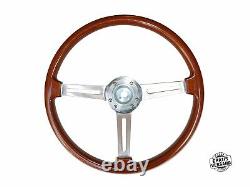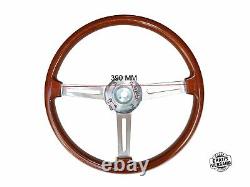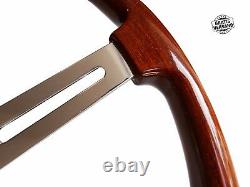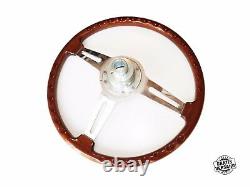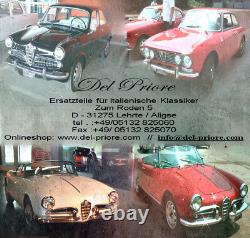 Tipo Hellebore Volante Alfa Romeo 105/115 Ragno Gt in Legno 390mm + Mozzo. La descrizione di questo articolo è stata tradotta automaticamente. Se hai dubbi o domande, ti invitiamo a contattarci. ALFA ROMEO / TIPO ELLEBORO 390 MM VOLANTE VOLANTE IN LEGNO CROMO 3 RAZZE VOLANTE SPORTIVO & IL MOZZO RIVETTATO CORRISPONDENTI PER ALFA ROMEO 105/115 SPIDER / GT BERTONE JUNIOR / GIULIA 1300 1600 1750 / GT JUNIOR ZAGATO 1300 1600 NUOVO!
Descrizione / Descrizione / Descrizione. Nuovo Alfa Romeo / tipo Elleboro Rotella di direzione di sport tra cui la sua base operativa, che già era rivettato. Il volante è fatto di legno marrone medio granuloso che è stato rivestito con vernice trasparente. I tre raggi sono in alluminio cromato. Volante diametro 390 MM, corno.
Senza KBA, dal momento che è originale Alfa Romeo merce è. Nuova Alfa Romeo / tipo Elleboro volante mozzo incl.
Il volante che cosa costruire medio marrone legno vintage che è ottimizzato con vernice trasparente. Sono costituiti da tre raggi cromato in alluminio. Il diametro del volante è 390 MM, diametro push corno MM. 50 e il mozzo del volante è da Nardi che si adatta anche.
Diametro pulsante cicatrici / corno / horn diametro: 50 mm. Distanza tra i bulloni di montaggio / distanza tra i bulloni: 50mm & 25 MM. Volante diametro / volante diametro: 390 millimetri. Unità per ogni set / per impostare / unità UNITA al set. 1 parte / unità / Unità. 1 x Alfa Romeo / tipo Elleboro marrone con bicromato di potassio-placcate sterzo ruota raggi 3. Numero articolo / numero articolo / Codice articolo. Ricerca di altri FIAT / ALFA ROMEO Oldtimer parti di ricambio o hanno ancora domande circa le offerte di articoli? Ragno di ALFA ROMEO GT / Bertone Giulia / Berlina Giulietta Zagato. Per esempio, i parafanghi sono offerti solo zincato, così si ancora lungo alcune delle sono la tua fidanzata. Si può essere sicuri che si uniscono la ottenere la migliore qualità a prezzi interessanti. Spedizione in Germania è evidente per voi gratuitamente (DPD). Gli offerenti stranieri sono i benvenuti, si prega di chiedere prima di fare offerte per il Consiglio di spedizione.
Pezzi di ricambio per classici italiani Per il 5 di estirpazione D-31275 insegnato / Aligse Tel. + 49/05132 825060 Fax: + 49 / 825070 05132. FIAT 124 SPIDER PARAFANGO ANGOLARE PANNELLO FRONTALE PANNELLO FRONTALE ANTERIORE SINISTRO CS DS 1975-85. FIAT 124 SPIDER PARAFANGO ANGOLARE PANNELLO FRONTALE PANNELLO FRONTALE ANTERIORE DESTRO CS DS 1975-85.
FIAT 124 SPIDER PARAFANGO ANGOLARE ANTERIORE PANNELLO ANTERIORE SINISTRO ABARTH COME BS CS DS 1966-85. FIAT 124 SPIDER PARAFANGO ANGOLARE PANNELLO ANTERIORE ANTERIORE DESTRO ABARTH COME BS CS DS 66-85. FIAT 124 ORIGINALE SPIDER SPIDEREUROPA PININFARINA POSTERIORE BEIGE CONVERTIBILE.
CINGHIA DI DISTRIBUZIONE CINGHIA DI DISTRIBUZIONE FIAT 124 SPIDER 2,0 2000 + KIT CINGHIA DI DISTRIBUZIONE DELLA CINGHIA DI ROTAZIONE. 1X POGGIATESTA GUIDA GUIDA ALFA ROMEO SPIDER 105/115 DESTRA SINISTRA. 1X AMMORTIZZATORE POSTERIORE AMMORTIZZATORE POSTER DINO SPIDER 2,4 2400 AMMORTIZZATORE POSTERIORE 1966-72 NUOVO.
ELMEG CS410 CS 410 TELEFONO ISDN SISTEMA TELEFONICO UFFICIO CON CAVO NERO SUPERIORE. ELMEG CS100 TELEFONO ISDN SISTEMA GRIGIO TELEFONO TELEFONO CON FILO TELEFONO DA TAVOLO. ELMEG CS300 TELEFONO ISDN SISTEMA GRIGIO TELEFONO TELEFONO CON FILO TELEFONO DA TAVOLO. PEDALI POSTERIORE SINISTRO E DESTRO IN ALLUMINIO ALFA ROMEO 105 GTA. DEEP CORN DRIFT RACE RALLY SUEDE DISH WOOD RIM.
VOLKSWAGEN SPORTLENKRAD MERCEDES BENZ BENS SLK RETRO JAGUAR. LANCIA FERRARI MASERATI LAMBORGHINI RACE RACER HUB. VOLANTE SPORTIVO VOLANT SPORTIF SPORTS DEPORTIVO.
115 105 GIULIA CABRIO ROADSTER KABRIO. BRAUNES GEMASERTES HOLZ + KLARLACK. LINKS RIGHT LEFT DESTRA DESTRO SINESTRA SINESTRO. GEBRAUCHT GEBRAUCHTWARE EDELSTAHL BREIT SCHMAL. KUNSTSTOFF IMITAT NABE TOP NORD JUNIOR VELOCE. BERTONE PININFARINA RARITÄT DUETTO EDELHOLZ SCHÖN. SCHÖNES TRAUMHAFT GEMASETES GEMASERT BRAUN BROWN. HELL DUNKEL LIGHT DARK MATT GEBÜRSTET LENKRADNABE.
KLARLACK BESCHICHTET GRIFFKRANZ EXCLUSIVE BOSS INC. GUTACHTEN MOTORSPORT SHOW NEU NEW REMANUFACTURED. EXPRESS ZEICHEN LOGO BADGE ALFA SCHNELLE LIEFERUNG.
NEUWARE LIEBHABERSTÜCK ITALIEN ITALY ITALIA GLANZ. MARKENWARE HERSTELLER SUPPLIER PRICE PREIS TI ROAD. ROADSTER CABRIO KABRIO CODA TRONCA AERODINAMICA os. OSSO DI SEPPIA RUNDHECK RUND HECK ROUNDTAIL MIT.
AUTO ALLE FACELIFT RECHTS ZIERRING RINGE ZIERRINGE. FASTBACK FASTBAK ROUND TAIL LHD RHD RH LH UNIT MAT. MATT VORN VORNE LINKS LENKER RECHTS.
1300 1600 1750 ZAGATO JUNIOR GT BERTONE SPIDER 116. MATT MARKENWARE HERSTELLER QUALITÄT ALFA ROMEO. ORIGINAL HELLEBORNE SPORT LENKRAD 1 2 3 4 ERSTE.
ZWEITE DRITTE VIERTE EINS ZWEI DREI VIER TWO THREE. FOUR SPEICHEN SPOKE SPOKES RACING WHEEL WHEELS. STEERING SPORTLENKRAD VOLANTE STANDARD PRO.
PROFESSIONAL HUPE HUPENKNOPF HOLZLENKRAD NARDI. HOLZ KLARLACK RESTAURATION RICAMBI CHROMSPEICHEN.
SPEICHE WOOD KNOPF PREMIUM RING VOLANT MODELL. ABARTH 380 38 360 36 CLASSIC FERRERO CLASSICO HORN. BUTTON SURFACE 365 MM 36,5 DIAMENTER DURCHMESSER. REPLICA NOS NEW FAST SCHNELL BEST BESTE QUALITY. SCHWARZ BLACK NERO VINTAGE RIM FACTORY COLUMN OEM.
OE GENUINE ORIGINAL ORIGINALE SPORTIVO HERITAGE. CHROME ALUMINIUM ALU CLASSCO OPTIMAL OPTIMALE. OLDTIMER YOUNGTIMER YOUNG OLD TIMER ALFA ROMEO. FIAT GT GTA GTJ GTC GIULIA GIULIETTA ALFETTA ALFA.
ALFASUD MONTREAL 124 SPYDER SPRINT TYP. 105 115 116 102 101 106 750 105/115 750/101 1300. 1750 2000 2600 1900 15 INCHES OPTIC HOLZOPTIK. POLISHED ALUMINUM HELLEBORE 390 39 CM BC VOLANTE NARDI. MADERA PULIDO BMW PORSCHE VW WHEEL BENZ ALFA RARE.
TORINO TURIN SUBARU TOYOTA OHNE NABE NARBE CLASSIC CLASSICO. SL BMW VOLK AE86 MAZDA 911 356 SL SLK 8er 5er 7er. The item "Tipo Hellebore Volante Alfa Romeo 105 / 115 Spider Gt in Legno 390mm + Mozzo" is in sale since Tuesday, September 18, 2018. This item is in the category "Auto e moto\ ricambi e accessori\Auto\ ricambi\Carrozzeria esterna\Portiere laterali". The seller is "alfaspecialista" and is located in Lehrte. This item can be shipped worldwide.
Altre Etichette 1:: SCURO CORN DRIFT RACE RALLY CAMOSCIO DISH WOOD BORDO
Pacchetto: No
Altro codice identificativo: VOLANTE SPORTIVO VOLANTE SPORTIF SPORTS DEPORTIVO
Marca: ALFA ROMEO / ELLEBORO
Paese di fabbricazione: Italia
Unità di misura: Unità
Materiale: Legno di Qualità + nero Alluminio
Tipologia prodotto: Volante
Fabbricante/Provider: ALFA ROMEO / ELLEBORO
Codice di riferimento produttore articolo originale: SX DESTRO SINISTRA DESTRA DESTRO SINESTRA SINESTRO
Altre Etichette 4:: VOLKSWAGEN VOLANTE SPORTIVO MERCEDES BENZ DI BEN SLK RETRO JAGUAR
Lavorazione superficie: MARRONE GRANA FINE LEGNO + VERNICE TRASPARENTE
Numero unità: 1 Volante
Altre Etichette 8:: 115 105 GIULIA CABRIO ROADSTER CONVERTIBLE
Altre Etichette 6:: LANCIA FERRARI MASERATI LAMBORGHINI RACE RACER MOZZO
MPN: HBSPIDER
Garanzia produttore: 2 anni
Codice ricambio originale OE/OEM: QUALITÀ HIGH CONSEGNA BERLINA RAGNO GT JUNIOR
Posizionamento: Sinistra, Destra, Anteriore