ALFA ROMEO Giulia Ti Sales Photos in Wallet TIPO 105 (From 1962-1967)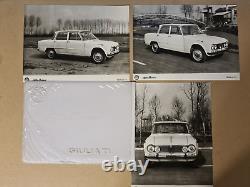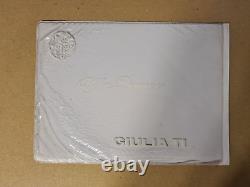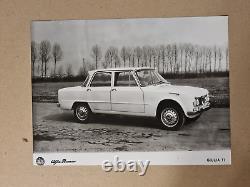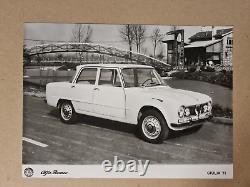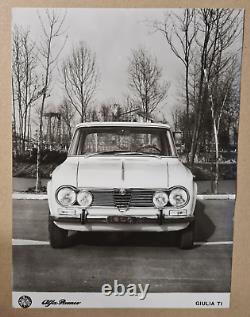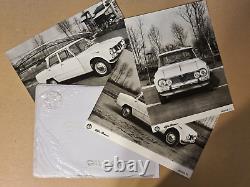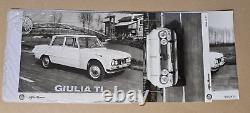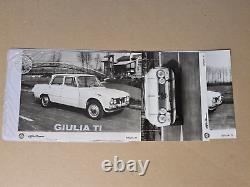 Almost MINT condition Alfa Romeo Giulia Ti. Sales Photo Pack of 3 B+W Photos in Plastic Wallet.
No Registration Number Plate on these Photos only the numbers "1600". Some warpage on Plastic Wallet due to age. Photos are immaculate near perfect with no writing on back. Front view shot has some slight thumbing on right side edge as has been taken out of wallet.
Tipo: 105.14 (LHD, column shifter), 105.08 (LHD, floor shifter), 105.09 (RHD, floor shifter). Unveiled on 27 June 1962 at the Autodromo Nazionale Monza. The Alfa Romeo Giulia TI was the very first of the Giulia family of cars to be introduced. Its 1,570 cc Alfa Romeo Twin Cam engine. Was fitted with a single Solex. 33 PAIA 7 twin-choke down-draft carburettor. The "TI" nomenclature referred to a class of Italian saloon car racing known as "Turismo Internazionale", and had previously been applied to higher-performance versions of the 1900 and Giulietta saloons. However, for the Giulia saloon, the TI was at first the only version available, and later, with the introduction of the TI Super and Super, the TI became the base version in the 1.6-litre engine class. A distinguishing feature of the original Giulia were drum brakes. On all corners, the front ones of the three- shoe.
Type like on late Giuliettas; four-wheel Dunlop. Were phased in during August 1963, after 22-23 thousand cars had been built. The car was marketed as a six-seater, thanks to a standard column-mounted shifter. And a split bench front seat. Though Italian car magazine Quattroruote.
Found it rather a comfortable four-seater. Other notable interior features of the early models were mottled cloth and vinyl upholstery, a grey, trapezoid instrument panel including a strip speedometer. And a black steering wheel with two ivory-coloured spokes and a chrome half horn ring. In May 1964 a floor shifter became available (chassis tipo 105.08), to be ordered solely in conjunction with the newly introduced separate front seats. Around the same time a right hand drive. Model variant entered production (tipo 105.09), with floor shifter only. In February 1966 several changes were made. The floor shifter became standard; the interior received new seats, a new dashboard with triple round instruments (two large ones and the smaller fuel gauge in the centre) in place of the strip speedometer, and new door cards. From outside these later TIs can be recognized by L-shaped chrome strips around the tail lights which supplanted the previous C-shaped ones. Production of the Giulia TI ceased during 1967; it was replaced by the Giulia 1600 S as the entry-level 1.6-litre model. 3 x Very Rare Photos Official from Alfa Romeo Factory.
Only 1 owner who worked at the official dealer and was given permission to have photos when dealer closed in 1990 From Bouts, Wolverhampton : Official Alfa Romeo Dealer.